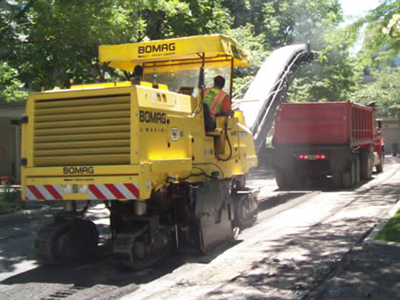 Graci Paving Associates is a local family-owned and operated paving company servicing Massapequa area as well as the surrounding New York regions.
We are a MWBE: Minority Women's Business Enterprise.
Our well trained and qualified paving team can perform all types of paving projects and site development.
Whether you need a minor crack repair or a major overhaul of your street and driveway, we have the skill and state-of-the-art equipment to get the job done right the first time.
OUR SERVICES INCLUDE:
Asphalt Resurfacing
Asphalt Profiling and Milling
Asphalt Repairs
Drainage Systems Services
Municipalities & Commercial
And More!
Commercial Paving Nassau County:
An extensive line of equipment allows us the ability to handle all types of commercial asphalt paving projects. From blueprints to onsite estimating, we can offer you a competitive price without sacrificing quality. All of our state of the art equipment is maintained on a regular schedule so you can be sure it will be operating efficiently, preventing any delays.
Our professionals take pride in paying attention to grades and slopes to make sure water is running properly throughout the asphalt paving job. Whether making a recommendation for your catch basin or re-grading your lot, priority is put on the proper grade for your paving job. Installation of curbing or parking lot stripes will be provided to you to complete the job if needed.
Graci Paving provides complete commercial asphalt paving services for your paving projects. Our large array of commercial paving experience takes you from gravel to asphalt with one call, allowing you to leave the specifications to us, or use the ones you provide. Our services are available for any sized project, from start to finish.
Residential Paving Nassau County:
Most residential asphalt paving work is as strong as their foundation. We take the time and the steps necessary to ensure a proper foundation to support your asphalt before we begin. The right equipment is brought out to your home to provide all the necessary tools for the grade, strength and material required to do your job right. We spare no expense! With over 50 years of experience of paving driveways, we know how to properly complete the job. Coupled with proper preparation, equipment and knowledge, our residential asphalt paving makes your driveway's appearance and strength second to none. We are well prepared with any necessary permits or pre-paving requirements so that the work on your driveway is implemented in the proper progression. We recognize the fact that your asphalt paving needs are not only intended as added value and convenience to your home, but for cosmetic reasons as well. With that in mind, our crew takes great care while working around your landscaping to prevent any disturbances. We provide complete clean up afterwards with the right tools to make sure your residential asphalt paving job runs smoothly.
Asphalt Milling Nassau County:
For many parking lots and paved surfaces, a full-depth asphalt repair might not be necessary. Parking lots with minimal cracking and trouble spots that otherwise have good drainage and a strong base are prime candidates for asphalt milling. Asphalt milling is an overlay process that breathes new life into your pavement at a fraction of the cost of a full-depth repair.
Here is how it works:
Using one of our two full-size, state-of-the-art milling machines, we will remove 1.5 to 3 inches of the existing asphalt from the top of your surface and haul it away.


The area is then power cleaned to remove all dirt and debris.


Our paving crew then overlays new asphalt on top of the surface. The new course is compacted and allowed to cool.
With asphalt milling, your parking lot will look like new with minimal downtime and without any major excavation.
Asphalt Patching & Repairs Nassau County:
If a portion of your asphalt surface is in need of replacement, Graci Paving has the solutions necessary to integrate new pavement into your existing parking lot or paving projects. Our patching services are ideal to repair areas around sewers, busy drive lanes or potholes that have sprung up thanks to tough New York winters.